More Healing Audio Coming Soon!
The following EFT audio is the second best thing to working live with an EFT practitioner. The languaging goes beyond the simple EFT basics, and additional techniques and processes are used. The files are not overly produced and include no additional music.
Please make sure you familiarize yourself with the basic EFT points prior to listening to the audio.
EFT for Clutter Clearing - MP3 - $8.88
For any and all pack rats
Are you drowning in clutter? Do you feel overwhelmed at the thought of getting through it all? Would you like to change your habits so you no longer cling to old stuff? This audio is for you. This EFT clearing includes a special special EFR (Emotional Freedom Reiki) process at the end, with an energy healing tip on what to do when you are confronted with cleaning up that old pile of junk. Approx. 20 minutes; 15 MB download.
BUY NOW
---
The following hypnosis products are provided by our friends at Hypnosis Downloads.com

Feel Good About Yourself
(MP3)
The Feel Good About Yourself Bundle contains 5 specially selected hypnosis sessions.

Relaxation 'Power Naps'
(MP3)
Four 15-minute deep relaxation sessions for that mid-day 'power nap'.

Weight Management
(MP3)
The Weight Management CD contains 4 specially selected hypnosis sessions.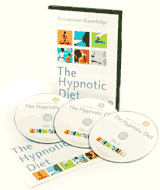 The Hypnotic Diet
(MP3)
A revolutionary new approach to weight loss.